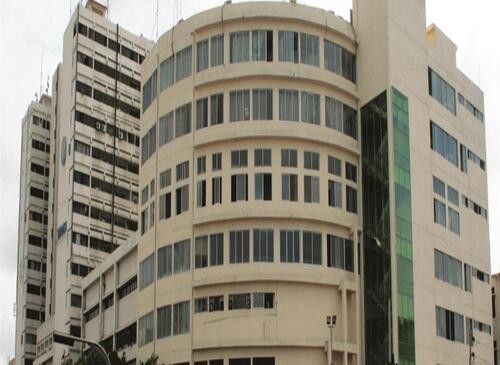 BACKGROUND
Nation has a commitment to develop an equitable health care system to ensure 'Health for All' and sustainable quality of life for the people of Bangladesh. To translate this commitment into a reality we need caring, skilled, confident, devoted and high quality medical professionals. To fulfill this purpose, Ibrahim Medical College (IMC) has established at 1/1, Ibrahim Sarani, Shegunbaghicha in the year 2002 by Bangladesh Diabetic Samity (BADAS) after the name of late national professor Dr. Md. Ibrahim v/ho was a legendry physician, teacher and social reformer.
BADAS has established Ibrahim Medical College with a vision to develop it as a 'trend-setter' medical institution in terms of high standard of medical education and research.
IMC has a large and experienced faculty members with a well equipped college and a multi-disciplinary hospital facility. BIRDEM General Hospital which is a about 750 bed multi-disciplinary hospital complex at Shahbagh is the teaching hospital of IMC. The hospital has been recognized nationally and internationally as a centre of excellence for medical services and research and has been designated as a World Health Organization (WHO) collaborating centre on diabetes and endocrine disorders.
VISION & MISSION
Vision:
To be recognized at home and abroad as a leading and trend-setter' institute of medical education and research
Mission:
To achieve and maintain excellence in medical education by
Producing graduates with a high level of intellectual inquiry and professionalism
Producing competent and committed medical graduates with a strong sense of ethics and commitment to serve the community and humanity
Creating future LEADERS of the medical profession
AFFILIATION
Ibrahim Medical College & BIRDEM General Hospital has been accorded:
Permission by the Ministry of Health & Family Welfare, Govt. of the Peoples' Republic of Bangladesh.
Affiliation by the University of Dhaka.
Recognition by the Bangladesh Medical & Dental Council (BM & DC).
INTERNATIONAL RECOGNITION
IMC has been listed in the International Medical Education Directory (IMED) and Foundation for Advancement of International Medical Education and Research (FAIMER), which will enable our graduates to appear in USMLE, PLAB, AMC and other entrance examinations abroad.
CAMPUS/COLLEGE
The College is now temporarily located at an annex 8-storied building close to its teaching hospital BIRDEM at Shahbagh in central Dhaka. The college is housed in the 3 to 7 floors of the annex building while its ground, 1st and 2nd floors are reserved for parking.
The departments are well furnished, fully air conditioned and adequately equipped to accommodate Class rooms. Dissection hall. Laboratories, Museums & Library. Each department has been provided
with computers having internet facilities with access to Hinari, Scanner, OHP and other audiovisual aids. All the lecture rooms are equipped with audiovisual equipments including multimedia set up.
The permanent campus of the college is now under construction at Segunbaghicha very close to Shahbagh, the same place where in 1956 the Diabetic Association of Bangladesh was established.
CAMPUS/HOSPITAL
BIRDEM General Hospital is the teaching hospital of the college. It is a more than 650
bedded multidisciplinary Hospital Complex at Shahbagh, yet another prestigious institution
of the Diabetic Association of Bangladesh. It has already earned national and international
reputation as a center of excellence for medical services and research, presently designated
as a WHO Collaborating Centre.
The hospital is housed in two magnificent buildings, one is 5 storied & the other is a 15
storied twin-tower. The 15 storied twin-tower accommodates the hospital, while the 5
storied building houses the outpatient services, intensive care unit and a modern
sophisticated cardiac center – Ibrahim Cardiac Hospital & Research Institute (ICHRI).
Over 3000 patients are attending the outpatient departments daily. The in-patient
departments have a total of more than 650 beds of which over 100 are free. Internal
Medicine & sub-specialties have a total of 220 beds. General Surgery & sub-specialties
have a total of 165 beds, while gynaecology and obstetrics have 60 beds. Emergency Units
have a total of 30 beds, which include emergency (10), Intensive care (10) and Coronary
care (10). In addition, there are more thanl 20 cabins.
[elementor-template id="9971″]
ibrahim medical college ranking
ibrahim medical college admission
ibrahim medical college fee structure
ibrahim medical college admission circular 2020 21
ibrahim medical college doctor list
ibrahim medical college hostel
ibrahim medical college contact number
ibrahim medical college ranking
bangladesh medical college
ibrahim medical college fee structure
ibrahim medical college admission
ibrahim medical college hostel
ibrahim medical college
ibrahim medical college fee structure
ibrahim medical college admission 2020-21
ibrahim medical college dental unit
ibrahim medical college ranking
ibrahim medical college doctor list
ibrahim medical college hostel
ibrahim medical college journal
ibrahim medical college admission result 2020-21
ibrahim medical college job circular
birdem hospital & ibrahim medical college
ibrahim cardiac medical college
ibrahim cardiac medical college admission fees
ibrahimpatnam medical college
mbbs admission 2023
mbbs admission result 2023
mbbs admission 2022-23 for Bangladesh
mbbs admission process
mbbs admission process 2020
mbbs admission 2020 without neet
mbbs admission without neet
mbbs admission in abroad 2023
mbbs direct admission in Bangladesh
mbbs admission 2022-23
mbbs admission in bangladesh 2022
mbbs admission in bangladesh 2023
saarc mbbs admission 2023
mbbs admission website
mbbs admission circular