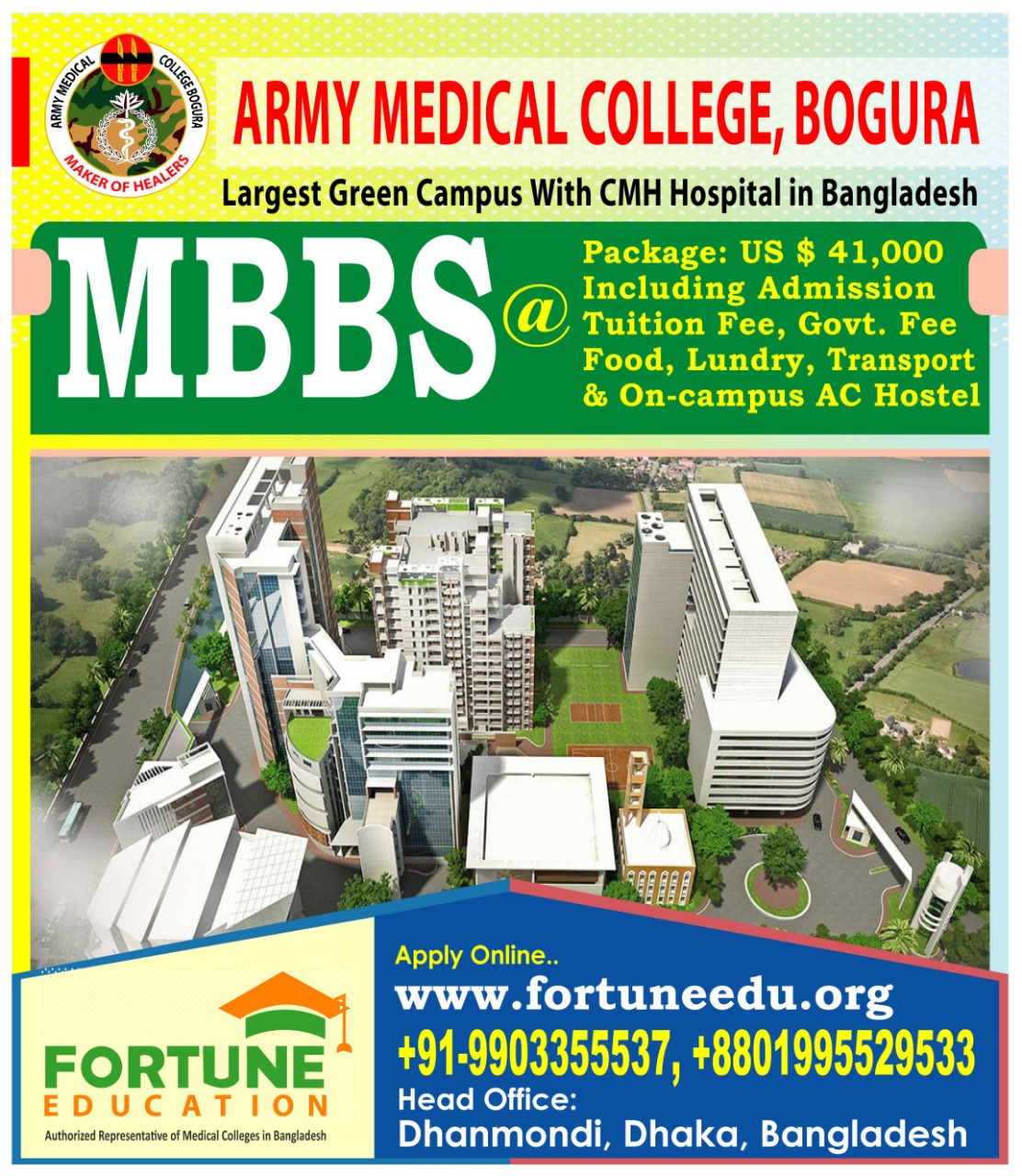 Army Medical College Bogura (AMCB) established in 2014. It is located in Bogra Cantonment, Bangladesh. It is affiliated to Bangladesh University of Professionals. Academic activities started on 10 January 2015 with 50 students along with 4 Army Medical Colleges (Chittagong, Rangpur, Cumilla & Jessore). It has 200 MBBS students in 2018 (4th batch running).
It offers a five-year course leading to the Bachelor of Medicine, Bachelor of Surgery (MBBS) degree. One-year internship after graduation is mandatory for all graduates. The degree is recognized by the Bangladesh Medical and Dental Council.
Dream Careers is the exclusive authorized Representative for Army Medical College Bogura. Processing direct admission with one-stop services.Contact: Mobile & WhatsApp: +8801995529533, India: +91-9903355537
AMCB Overview
| | |
| --- | --- |
| Category | Details |
| College Name | Army Medical College Bogura |
| Short Name | AMCJ |
| Type | Public |
| Established | 2014 |
| Affiliated | Bangladesh University of Professionals |
| Location | Jessore, Bangladesh |
| MCI Approved | – |
| Courses Offered | MBBS |
| Exam Acceptance | NEET, Bangladesh University of Professionals Entrance Exam |
Army Medical College Bogura Admission Notice
Get detailed information for admission to AMC session 2022-23 here.
Eligibility for Army Medical College Bogura
Check your eligibility for admission. Here is detailed information on admission requirements.
Physical requirements
Minimum Height: Male- 5'4″, Female- 5'2″.
Weight: Male- 45.45 Kg, Female- 40.90 Kg.
Chest Size: Male – Regular: 30″ Expanded: 32″, Female – Regular: 28″ Expanded: 30″.
Visual standard: ± 1.5 D (spherical); ± 1.0 D (cylindrical).
Hearing: Normal limit.
Note: Applicant must not be color blind.
Educational qualifications
AMC cadets must have an overall GPA of 10.00 (SSC-5.00, HSC-5.00) and must have a minimum GP (Grade Point) of 3.50 in Biology in HSC or equivalent examinations.
Eligibility
Age: must be at least 20 years old on March 13, 2022.
Gender: Male/Female will get a chance for admission.
Marital status Single
Nationality: Candidate must be of Bangladeshi origin.
Education expenditure for AMC
Army Medical College Bogura
Tuition

Fees

Check the cost of studying at army medical colleges.
| | | | | |
| --- | --- | --- | --- | --- |
| Courses | Duration | Eligibility | Fees Structure | Apply Now |
| MBBS | 4 1/2 years + 1 Year Internship Program | Candidate must pass in 10+12 with 50% marks in all the respective subjects | Aprox. 15 to 22 Lacks | Apply Now |
Army Medical College Bogura Scholarships Programs
AMCB scholarship programs aim at providing financial aid to the eligible students for scholarships under the criteria laid down by the Army Medical College Bogra.
Dream Careers is the exclusive authorized MBBS admission consultancy for army medical college. We provide all the details of admission. There are many firms around and they have a variety  offers but not all of them can give you the desired results. You will have better results if you work with Dream Careers to get admission into any college of your choice. We provide you best packages and services to MBBS aspirants.
Frequently Ask Question
1.How to get admission in Army Medical College Bogura?
If you are looking for direct admission in AMCB, Bright Educational Service is the right place for you which has best Indian direct admission consultants and we provide 100% guarantee of admission in India and abroad.
2.Which entrance exams does Army Medical College Bogura accept?
AMCB will accept NEET UG, NEET PG entrance exam score for admission.
3.How is the atmosphere there in the Army Medical College Bogura campus?
The atmosphere of Army Medical College Bogura is good. Which offers students a great infrastructure for healthy physical and mental growth.
4.Does Army Medical College Bogura College have hostel facilities?
Yes, Army Medical College Bogura has separate hostel facilities for both boys and girls. It is located inside the campus.
5.How is AMCB? Is it a good college?
By collage standards no doubt there are better colleges than AMCB they say they provide better recruitment, better education and better college campus, better environment etc.
[elementor-template id="9971″]