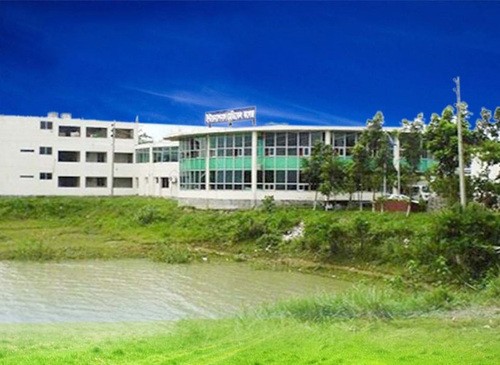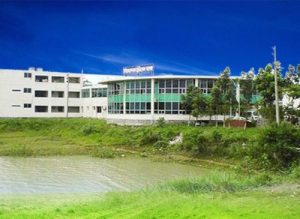 Location
The International Medical College & Hospital is located on the outskirts of the commercial township of Tongi and is about 22 km away from the city center of Dhaka. The major bus stands/terminals, railway station, and Shahjalal International Airport are within a maximum distance of 30 minutes.
The Campus
The campus stands in a solitary environment amidst green vegetation, spaced villages, and large water bodies. One takes a walk around the campus to take a fresh breath while enjoying the panorama and picturesque that the site offers. Everything combines and converges here to make it a perfect place for learning.
The present campus of International Medical College has an area of about 9 acres of land. The college and all preclinical and para-clinical departments are located in the academic building. The Classrooms, Dissection hall, Laboratories, Museum, Library, and other facilities are appropriately arranged on various floors of the Academic Building.
International Medical College Hospital (IMCH) is the academic hospital of the College. It is a 650 bedded multidisciplinary Hospital Complex that is located in proximity to the College building.
Hostel
International Medical College always gives preference to students' affairs on a priority basis. Since we believe that a tranquil, soothing lodging is an inevitable necessity especially for medical students, we have arranged well-furnished accommodations for male and female students in two separate hostels. Three-storied Boys' Hostel is located on the bank of the lake inside the campus. The newly built three-storied Girls' Hostel is situated beside the College building. There are separate blocks for foreign male and female students. Both the hostels are adequately furnished with articles needed for everyday living and entertainment. Well-trained cooks for both local and foreign students are provided by the College for both the hostels.
Transport Facilities
Students not residing in the hostels are provided with pick-up and drop-off facilities from certain points in the city. A special transport facility is provided twice a month to the students residing in the hostels to go to the city for shopping or other related activities.
Beautification of the Campus
The sprawling College campus is situated at a place having scenic beauty. Recently a lake has been excavated within the campus which has added greater beauty to the picturesque view of the campus. Further beautification of the campus is going on and a massive landscaping program has been undertaken by following the architectural design prepared by renowned architects of the country.
Extra-Curricular Activities
College regularly arranges sports, cultural functions, annual picnics,s and other entertainment events for the students. Debating competitions are also held periodically.
Faculty
The academic Faculty of the college consists of about 104 members comprising of distinguished academicians with proven teaching and research excellence. Each department and discipline is headed by a professor/associate professor who leads his team to conduct the courses and prepare the students to become future doctors.
Allied Institutes
There is a carefully drawn master plan to develop this college as multi-dimensional teaching and training institute for medical education. Initially, the college started with only MBBS course and gradually following programs are being initiated:
The B. Sc. Nursing Course has started its journey in the year 2007.
       Post-Basic B.Sc. Nursing has been introduced in 2014
        International Health Technology Unit, started B. Sc. in Health Technology (Laboratory) since 2013
PAYMENT INSTRUCTIONS: 2020-2021
FOR SAARC COUNTRIES:
Mode of Payment:
Payment of admission fees, Development fees, Donation, and all other charges (US$ 32,250.00).
During admission:
Total US$ :                                                                                                                         45,000.00
In words: Forty-Five thousand US dollars only.
Note: If any student does not perform their internship training in this institute (MCWH) she will get a refund of USD 2170. The total amount then to be paid USD (45000-2170) = USD 42830.
Hostel accommodation fee per year approximately: US$ 800.00
At the time of admission, all students will have to pay a minimum of one (01) year hostel seat rent in advance if they desire to live in a hostel. Hostel accommodation fees are the same as local students for one year. All students will clear their hostel seat rent before appearing in the 1st, 2nd, 3rd & Final professional MBBS examination. If they fail in the Final Professional MBBS Examination, they will have to pay US$ 800.00 (Eight hundred US Dollars) for each attempt in all subjects and US$ 267.00 for each subject. All students will clear their tuition & others fees so long they continue their regular courses. All students have to pay any other charges which will be imposed by the concerned authority related to the MBBS course, such as RFST, study tour, autopsy visit, etc.
Online Admission Fee @50 US Dollar for each admission
Apply Online: https://www.emailmeform.com/builder/form/9RieAvrbhZxLn7pBwe609asDc
 For more details contact with us: 
(Online /Direct Admission & Seat Confirmation)
FOR ADMISSION AND OTHER QUARRIES, CONTACT:
Authorized Representative
HEAD OFFICE :
DHAKA, BANGLADESH.
MOBILE & WHATSAPP: +88-01995529533
---
OFFICES IN INDIA:
MOBILE & WHATSAPP: +91-9903355537
WEST BENGAL, MODON MOHON STREET, KOLKATA,
PATNA, BIHAR, DELHI, JAMMU & KASMIR,
HYDERABAD, LUCKNOW, CHENNAI, AND GUWAHATI.